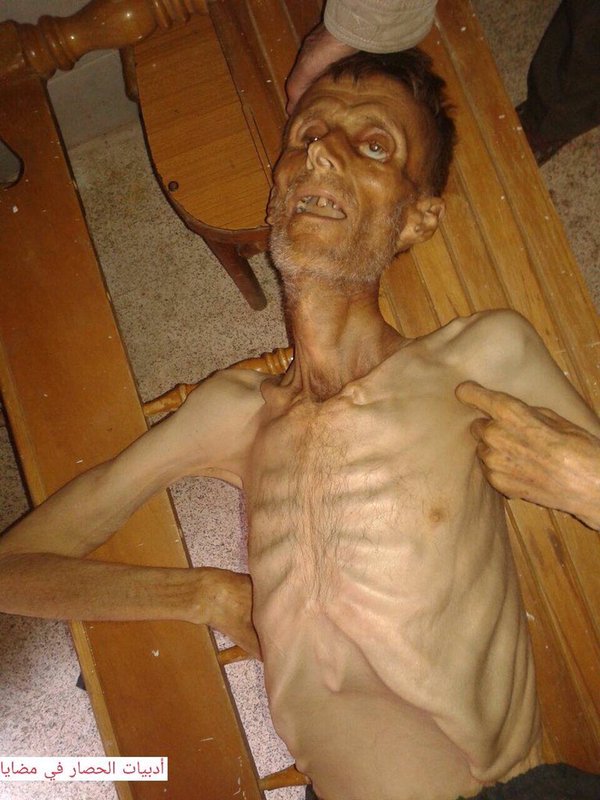 '

In the past month alone

, 31 residents have died from starvation, or in attempts to run the Hezbollah-manned blockade that encircles the town. As the death toll mounted in December, residents of Madaya began posting desperate pleas on social media, along with disturbing images, reminiscent of Nazi concentration camps.

According to Rajai,

a 26-year old English and math teacher in Madaya,

the Assad regime is punishing his hometown for its participation in the Syrian uprising in 2011. When peaceful protesters took to the streets in the nearby city of Zabadani in April 2011, Rajai joined in. "We wanted to clean this country of Assad," he said. He was arrested and tortured. Now, after five years of civil war, his outlook is bleak.
"In the early days of the revolution, we used to say no one could be made to feel hungry or afraid," he said. "But now we know we were wrong."
In September, Hezbollah moved into the town of Zabadani, just two miles (three km) north of Madaya, and the town's only real lifeline to the outside world. A few beleaguered rebel fighters were allowed safe passage out thanks to a deal brokered by Turkey and Iran.
As Hezbollah stormed the city, it forced people it considered hostile to move to Madaya, a tactic residents say was designed to separate out pro-regime and anti-regime civilians. Loay, a 28-year old student in Zabadani, was forced to relocate to Madaya with his mother when Hezbollah took over his town. "They said: go to Madaya," he told VICE News by phone. "There you will die, from starvation."
In Madaya, he said, it's like "another world." "Everyone," he added, "is starving."



As the siege grinds on, civilians are increasingly losing hope, and fear their plight will always be in the shadow of the war up north against the Islamic State. "Sure, people may read about us if you write something," Rajaai, the teacher, told VICE News. "But when they finish reading, they'll forget us." '