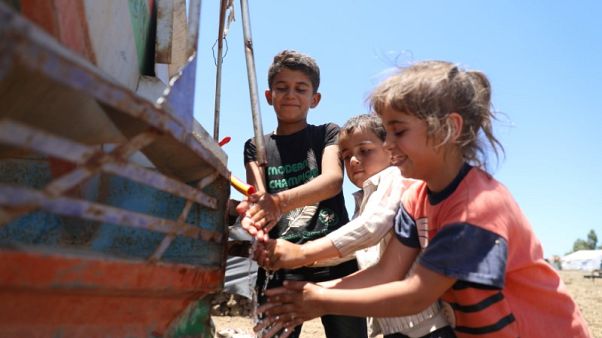 '

After running from an army offensive

in southwest Syria, Mirad Ghabaghbi says he is ready to take his family anywhere to keep them safe – even neighbouring Israel.

The vegetable seller is among thousands of Syrians seeking refuge at the frontier with the Israeli-occupied Golan Heights.

With the help of Russian air power, pro-government forces have marched swiftly into insurgent territory in Deraa province in the past two weeks.

The battles have pushed more than 270,000 people out of their homes, the United Nations says, most of them sheltering nearby at Syria's southern frontiers. But neighbours Israel and Jordan say they will not let Syrians in.


"Everyone in the village is wanted (by the state). I don't expect anyone to return," said Ghabaghbi, who escaped with 22 relatives when the frontlines reached their doorstep.

He said residents could not even pick up dead bodies in the streets in his village of Kheil in east Deraa, the birthplace of the 2011 uprising against President Bashar al-Assad's rule.

The road out of the province was packed with streams of cars and people despite the bombing, he added.


Since last week, he has lived in a field near the Golan frontier with his wife and children, elderly mother, and the families of his two brothers. The small kids sleep in the car and others in a makeshift tent, while he spends his nights out in the open.

"I want nothing but safety for my children, wherever it is," Ghabaghbi, 46, told Reuters.

He would move to the Golan if he could just to keep them alive, he said. "Why wouldn't I go?"


Israel, which annexed the Golan after seizing much of it from Syria in the 1967 Middle East war, beefed up its tank and artillery forces on the plateau this week.

The Syrian military offensive has so far targeted rebel parts of Deraa, rather than Quneitra province further west near Israel. Despite its warnings to Damascus, the United States has told the rebel factions that it once backed not to expect military support.

The assault shattered a "de-escalation agreement" that Washington, Moscow, and Jordan brokered for the south last year, a deal which had halted any fighting there.

The ceasefire had raised the hopes of Ghabaghbi, who came home with his family to their village last year after living as refugees in Jordan since 2012.

Now, displaced once again, he regrets returning. In recent days, he sold some family jewellery to afford food from vendors who go around in pickup trucks, but said he does not know what to do once the money runs out.

The family uses solar panels to operate a fridge, and dug a hole in the ground to improvise a toilet. He said one brother was fighting in battles against the government, but he was not sure of the fate of other siblings.


Ghabaghbi said he could not go back to Deraa to live under state rule, but if it comes to it, he would also not move to rebel territory in northern Syria without foreign guarantees.

Through a series of offensives and surrender deals, Damascus has clawed back control of much of the country. Local evacuation deals – accept state rule or leave – have sent tens of thousands of fighters and civilians to the insurgent stronghold of Idlib in the northwest.

"I will stay here until I die," he said from the field at the Golan frontier. "All the people have become confined in Idlib…and (the army) will take control of Idlib too."

"I supported the revolution…I wanted freedom and an end to corruption," said Ghabaghbi, who used to run a vegetable shop and own an apartment before the seven-year war upended his life. "Nobody had thought it would get us here." '