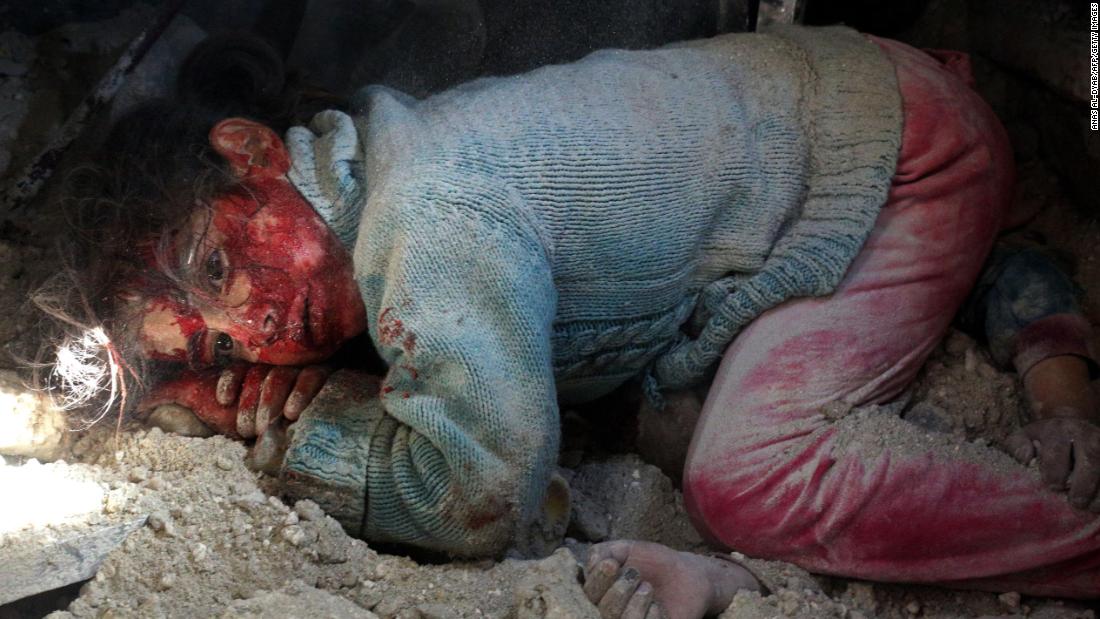 '

The heartbreaking photo

shows a 6-year-old girl, blood smeared all over her face, as she waits to be rescued from the rubble of a bombed-out building in northwestern Syria.


Looking past her shell-shocked face, you can see a lifeless hand under her knee.

It's the hand of her 3-year-old sister, who didn't survive the airstrike. Her 1-year-old brother also died in the attack, as did a cousin, according to Anas al-Dyab, a White Helmets volunteer who took the photo of her and others at the scene.

The incident took place Tuesday in Khan Sheikhoun, which is in the rebel-held province of Idlib.

The rocket hit several residential buildings that led to deaths and injuries among two different families, al-Dyab said.

The girl who was rescued Tuesday is Hasna'a Qatran, al-Dyab said, and it took nearly two hours for the White Helmets to pull her out of the rubble. She was released from the hospital on Thursday, he said.

Al-Dyab's dramatic photos also show the father, Abdul Razzak Qatran, clutching his dead daughter, Elaf, close to him while he cries. He kisses her feet as one of the White Helmets carries her away.

The attack happened around 12:30 in the afternoon, said al-Dyab, who has filmed dozens of airstrikes and was himself injured in one last year.

Al-Dyab said he's been injured several times while covering these rescue missions, but he keeps going because he believes strongly in his work with the White Helmets.
"We want to rescue the biggest number of lives in the shortest time," he said.'