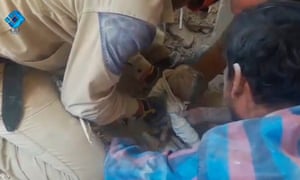 '
Activists posted images of massive craters
from the city that they alleged were the first instances of warplanes dropping bunker buster bombs.
"Are we in the era of technology and civilisation?" said a resident of eastern Aleppo. "Is this Russian civilisation and democracy? The killing of children, women and elderly people?"
Bara'a, a nurse at a hospital which doctors in Aleppo refer to with the codename M2 to conceal its location, said she had witnessed several children brought in with severe injuries on Friday.
"It is so saddening," she said. "The strikes and massacres do not stop. Bombings, siege, homelessness, exhaustion, fear, manpower shortage. The silence of the world is killing us."
Graphic photographs from the bombed-out streets and homes of Aleppo showed rescuers attempting to dig out bodies – many of them children's – from the debris.
"Anger has filled everyone who remains in this city of rubble," said Bara'a. "Many of the wounded are children, and when you look in their eyes they weep and say we have nothing left. Curse this justice. They lose their limbs and become disabled for life and their only sin is that they are the children of
Syria
. They have burned their childhood and their innocence and made them homeless in their country and all we get in return are words and promises from outside. God curse humanity if this is what it has become."
One western diplomat said he did not believe that the rebel-held districts were in immediate danger of a ground incursion. "It seems highly improbable that there would be a quick defeat of eastern Aleppo," the diplomat said. "The only way to take it is with such a monstrous atrocity that it would be remembered for decades or generations. To take it quickly, much of Aleppo would be destroyed." '