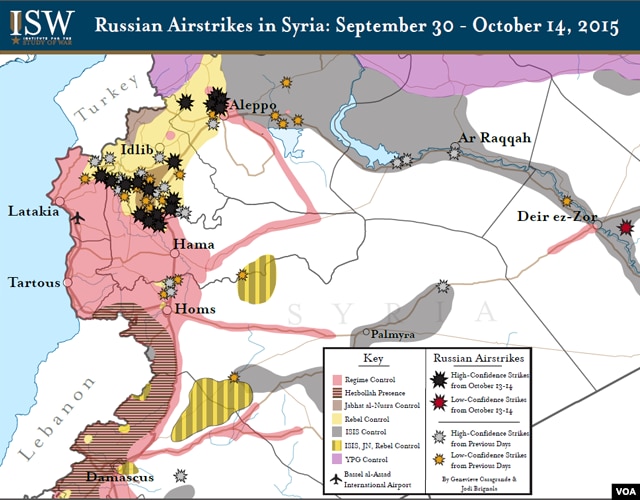 "

The Russians are burning

and flattening everything," explains
Abdul Rahman, a commander with the Ahfad Omer battalion
, arguing the scorched-earth tactics are reminiscent of what the Russians did to the Chechen capital Grozny in 1994, reducing it to rubble. "There are 50 or 60 airstrikes a day," he said. The difference is the Russians are not bombing a built-up city, but spread-out villages, some the poorest in northern Syria.


"The solution is simple. It is not complicated. Assad, his inner circle, the security apparatus and all the intelligence agencies, all have to go," said 35-year-old Zakaria Malahefji, a former higher education teacher and political officer of the 3,000-strong Fastaqim Kama Umirt.

Having withstood more than three weeks of Russian bombing and Assad ground assaults, the rebels say they are relieved they have lost little territory, just five villages in the southern Aleppo countryside.
"Our fighters are skilled fighting in the towns and all we need are Kalashnikovs," said Col. Mo-hamed al-Ahmed, spokesman of militia alliance Al-Jabha al-Shamiyya (Shamiya Front). "The Assad regime knows it can't fight in the city — so it is choosing to fight in the countryside," added al-Ahmed, a Syrian Air Force pilot defector.

Months before the Russian intervention, commanders lamented the difficulty in finding new recruits. That has changed, at least in rural areas. Now locals are eager to fight, so too are youngsters among the refugee population in neighboring Turkey. "Since the Russians came many people want to fight," said al-Ahmed, sitting in a bare, dismal office in a ramshackle building adjacent to the wasteland in the Turkish border town of Kilis. "Before they said they didn't want to kill fellow Syrians, but now they want to confront the Russians."