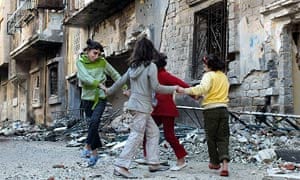 "Homs and the surrounding province is seen as essential to the war in Syria and to any plan to create a safe haven for Alawites if the Syrian state collapses, as it geographically links largely Alawite areas on the Syrian coast and Shia areas in Lebanon's Bekaa Valley."
I don't think this is a very likely proposition*, as when Assad ceases to be the purported governor of all Syria, his days in Syria are numbered. Still, that doesn't mean he and his
already quite sectarian elimination-state won't give it a go.
*Eugène Terre'Blanche comes to mind.[
http://en.wikipedia.org/wiki/Eug%C3%A8ne_Terre%27Blanche
]