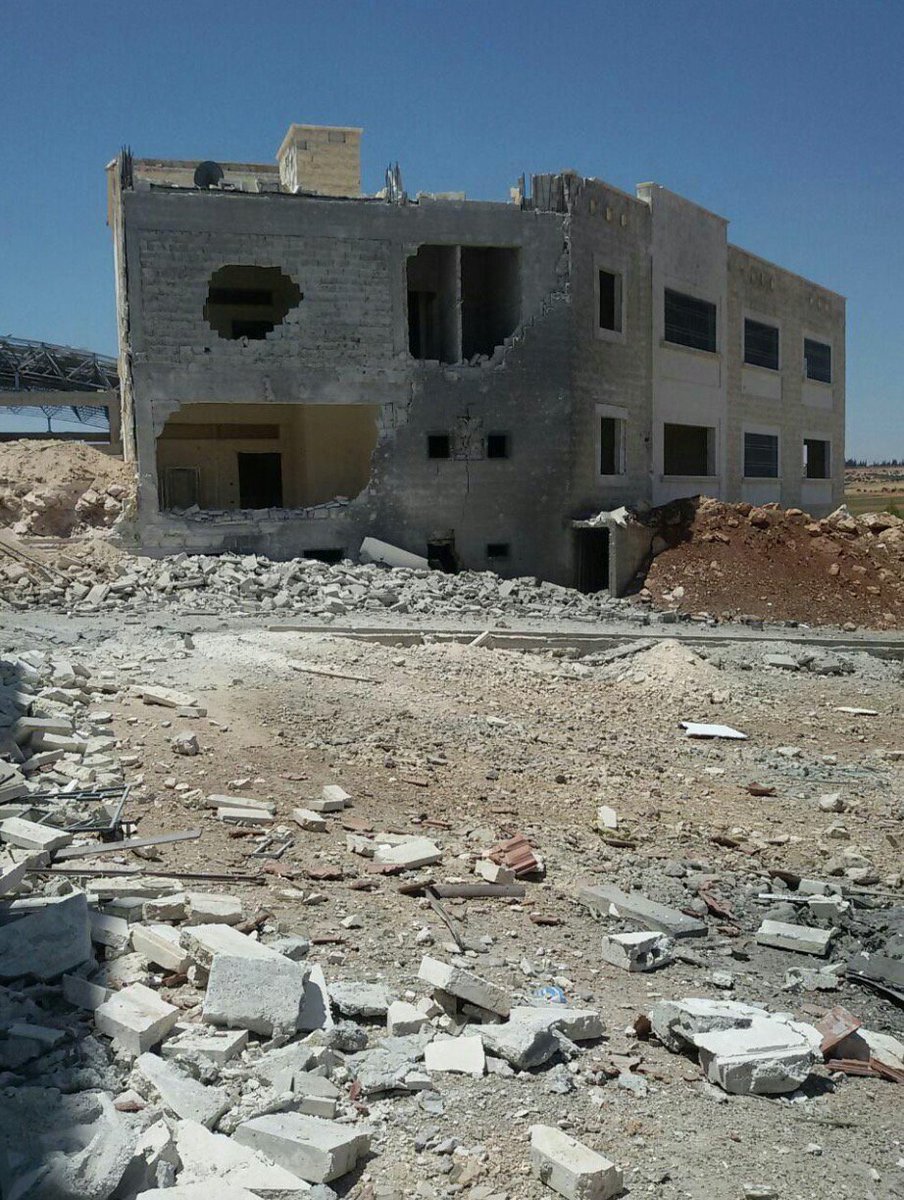 Dr. Anas Al Kassem:

"3 more medical facilities have been destroyed by a wave of targeted airstrikes by the Regime / Russian air force in the past 6 hours (2200 hr Damascus time)
1) Jassem Hospital in Daraa (Southern Syria): Hospital ambulance entrance hit by an airstrike resulting in 10 casualties including: 2 children, 4 women, 1 pharmacist and a nurse. The hospital has 60 staff and serves roughly 2350 patient a month and attends to a population of 40,000. UOSSM supports the hospital with medicine/medical supplies. The hospital is also supported by other large international NGO's.
2) Hoor Clinic in (Western Aleppo Countryside)
Destroyed by an airstrike. Casualty/ injury numbers unconfirmed. Clinic managed by the NGO "Iskan"
3) Forensic Lab in Aleppo:
Hit by airstrikes for the 3rd time in 4 days and completely destroyed. 2 staff are killed including a 25 year old technician and more injured.
July 30, 2016
Anadan
Hospital hit by Airstrike in Northern Aleppo at approximately 11pm Damascus time on July 30, 2016. The hospital was the last operating in Western Rural Aleppo. UOSSM supports the Anadan Hospital with medicine and supplies.
Anadan had 4 ICU's and a maternity ward, serves 5000 patients monthly, performs 100 surgeries, 35 cesarean section surgeries. This was the last operating hospital in Northern Aleppo leaving a population of 100,000 without medical access.
July 29, 2016'
Save The Children' maternity hospital was bombed in Idleb leaving two people killed, six injured, and a six months pregnant woman who lost both her legs.
In the past 7 days, 4 other hospitals have been bombed in Aleppo crippling the medical system at a time when trauma injuries are skyrocketing from the government siege. Patients are avoiding critical treatments fearing injury/death from frequent hospital attacks."
Julian Röpcke:
"UOSSM Canada-supported staff fled from Anadan to Hawar after the air strike last night. Today they got hit there again."


[

https://twitter.com/JulianRoepcke/status/759862111694573568]