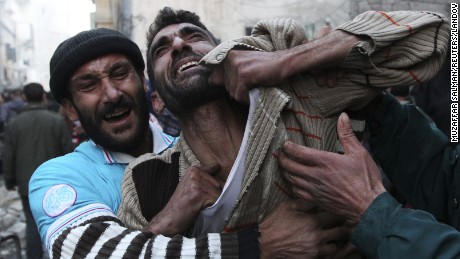 '
Wednesday's strikes
were centered around the city of Homs, in western
Syria
near the border with Lebanon.
A Syrian opposition activist living north of Homs near one of the villages targeted -- Talbiseh -- told CNN that ISIS had no presence in the area.
"Russian warplanes were targeting civilians and innocent people only, Putin is lying about targeting Daesh militants," Khdaier Khushfa said via Skype. Daesh is another name for ISIS.
"Daesh withdrew from the northern countryside of Homs in an announcement they made a year ago after the groups refused to deal with them, including Ahrar al Sham and Revolutionaries Front," he said.
"We know that Russia is the biggest ally of the Syrian regime, and since Bashar al-Assad considers us terrorists, then there is no doubt that Putin knows these areas are under our control and not Daesh."
Khushfa said the Russian strikes had killed 17 civilians in Talbiseh and 11 in Zafaraniya, despite rebel military posts and headquarters being located outside the two villages.
"We are used to the regime airstrikes but now the entire world is watching another country killing civilians in cold blood without taking any action," he said. "We are very concerned about what will happen next -- civilians I spoke to are very scared -- it's like, after five years since the revolution started we are back to ground zero." '