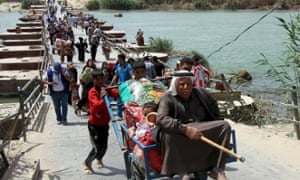 'It's God's gift.' Islamic State fills
coffers with Iraqi government cash
Not God but Bashar.
"
Crucial to its revenue is income derived from oil produced from large fields in eastern
Syria
, some of which it then sells on to its arch enemy, the Syrian government, according to an informed source on the ground and a senior US official in Washington.
"Much of the oil goes to the Assad regime," said Danny Glaser, assistant secretary for terrorist financing at the US treasury. "There's a business opportunity, there's a need for both of them. The Assad regime needs the oil, Isis needs the cash and they're willing to do business even as they're fighting each other." "
Ally rather than arch-enemy, co-ordinating attacks on Syrian rebels more than fighting each other.