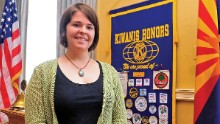 ' "

Syrians are dying by the thousands

and they're fighting just to talk about the rights we have," the humanitarian worker told The Daily Courier, her hometown paper in Prescott, Arizona, in 2013. "For as long as I live, I will not let this suffering be normal."


She described helping reunite a man with a 6-year-old relative after their refugee camp was bombed.

"This story is not rare in Syria," the newspaper quoted her as saying. "This is the reality for Syrians two and a half years on. When Syrians hear I'm an American, they ask, 'Where is the world?' All I can do is cry with them, because I don't know." '