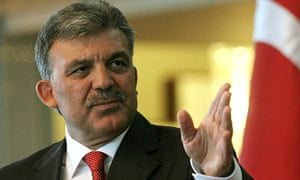 Radicalisation in Syria poses growing
threat to Europe, says Turkish leader
"If the atmosphere remains as it is, then this can lead to more radicalisation and some groups in the civil war becoming more extreme, dividing up, not being under control, and spreading across that country. Because under those circumstances, ordinary people could become much more extreme and this is something that poses a danger and threat not just for Turkey – it's an issue for everyone."
Stopping "intervention" was not a great thing we did on behalf of the Syrian people, or in solidarity with the Syrian revolution; in the absence of any real aid, it just means that intervention is more likely to be imposed on Syrians, right now from the Russians, from others when they can't keep a lid on it.