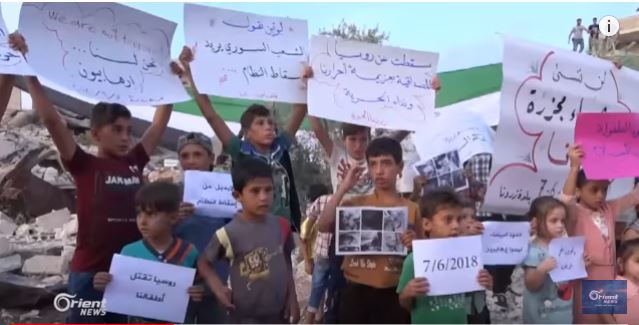 '

Syrians in Zardana village

in Idlib countryside staged a silent sit-in on the 3rd anniversary of the Russian military intervention in Syria.
Civilians and activists gathered on Monday (Oct. 1) at the site of the Russian massacre in Zardana village.
They raised placards which read: "We are not terrorists," and "Stop the crimes of the Russians, Assad and the Iranian regime."
"We refuse the Russian occupation, the constitutional process led by Moscow, and a political process that does not achieve the demands of the Syrian people," a demonstrator said.
We chose this place to remind the whole world that we will never forget our beloved civilians who were killed by the Russian aggression last June, another demonstrator said.
Russian warplanes targeted Zardana village on June 7, killing 44 civilians, and injuring 80 others.
At least 6,239 civilians have been killed at the hands of Russian forces, including 1,804 children, between the start of their military intervention in Syria and September 30, 2018, according to an SNHR report issued yesterday.'