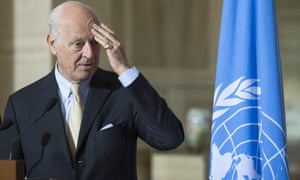 '
The UN special envoy
for Syria, Staffan de Mistura, appeared to backtrack on airdrops at a press conference last week, the day before he announced no further peace talks were possible for at least three weeks due to the breakdown in the cessation of hostilities.
He said: "It is clear from the briefing that we got that in order for airdrops to become concrete either by delivery at high altitude or by helicopters, there is a need for the cooperation of the government of Syria."

The apparent reversal was condemned by the former Liberal Democrat leader Paddy Ashdown, who said: "The deadline set by the ISSG poses a serious question. Are the words of the international community meant to mean anything? We would all much rather airdrops did not have to be contemplated – they are complex operations – but if the 1 June deadline passes without ground convoys getting in then the UK has to see that the international commitment to the people of Syria is fulfilled. Not only are lives on the line, so is the credibility of the ISSG."
Jason McCartney, the Conservative MP for Colne Valley and a former RAF officer, said: "We are at the stage of last resort where airdrops – however imperfect – are the only way to save lives."
Jo Cox, the Labour MP who has raised the issue of airdrops most consistently, said: "If the words of the foreign secretary and the international community don't turn to action, if we don't see aid getting in by road or by air, then we've reached a new low making empty promises to starving children." '

The left of the Labour Party could not be reached for comment.