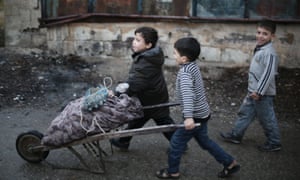 '
Sick children dying
as lifesaving medicine waits at checkpoints, youngsters forced to survive on animal feed and leaves, and families burning their mattresses just to find something to keep them warm.
Schools moving underground for shelter from barrel bombs, the crude, explosive-filled and indiscriminate crates that fall from the sky and are so inaccurate that some observers have said their use is
a de facto war crime
.
The wounded left to die
for lack of medical supplies
, anaesthetics, painkillers and chronic medicine; children dying of malnutrition and even rabies due to the absence of vaccines, while landmines and snipers await anyone trying to escape.
Tanya Steele,
Save the Children
's chief executive, said: "Children are dying from lack of food and medicines in parts of
Syria
just a few kilometres from warehouses that are piled high with aid. They are paying the price for the world's inaction."
At least a quarter of a million children are living in besieged areas across Syria, Save the Children estimates, in conditions that the charity describes as living in an open-air prison.


Rihab, a woman living in eastern Ghouta near Damascus, which has been besieged by Bashar al-Assad's regime, was quoted as saying: "Fear has taken control. Children now wait for their turn to be killed. Even adults live only to wait for their turn to die."


A
truce negotiated last month
by major powers was supposed to bring relief and aid into the besieged areas, but humanitarian workers and activists say the Assad government, which is conducting the vast majority of siege warfare in the country, has repeatedly delayed access, potentially in violation of the truce agreement.


Ahmed, a boy living in the besieged Damascus suburb of Douma, told interviewers: "When I hear the sound of a shell or a plane then I get very afraid and I hurry to escape and hide under my bed." '