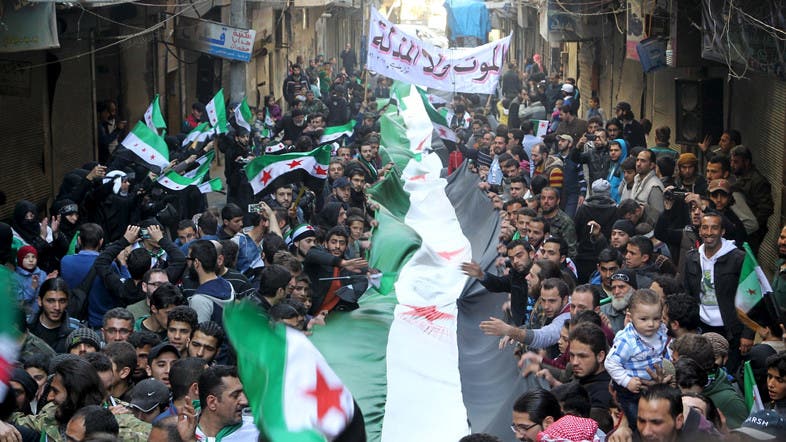 '
Mohammad al-Ibrahim
, 23, was one of thousands of young men who took part in the early, initially peaceful demonstrations. He told Al Arabiya English that the uprising forced him to switch paths and take up arms to defend himself.
He was 17 when he said he led some of the demonstrations, shouting anti-government slogans, reciting poetry, and singing revolutionary songs.
His personal turning point was towards the end of 2011, during a peaceful protest. He said none of his fellow demonstrators were armed when regime soldiers opened fire, killing two of his cousins.
"I don't regret using weapons against a monstrous and brutal regime… and if I can go back in time and pick up arms in the face of a regime that destroyed my homeland, my future, and killed my beloved ones I would not hesitate," said Ibrahim.
"I don't believe that the revolution 'failed' because it became armed," he said, adding that the Syrian regime had been behind the creation of Islamist militant groups and had been aided by foreign intervention.
Ibrahim's mother, who refers to herself as Umm Mohammad, said she had not wanted her son to take up arms, but felt she had no right to interfere in his decision.
"I told myself my son isn't of more value than the rest of the Syrian men who are dying to protect us."
Repeating what she claims is the sentiment of most of the wounded men, she said "[It turned out] the only reaction the regime understood was the same weaponized response they used against us, even though the revolution was initially peaceful. The very regime that drowned out our voices with its bullets had to hear us when we picked up our guns.
They took our land, homes, memories, everything beautiful, even our beloved ones, and their actions led to my son becoming crippled in front of my own two eyes. What do you think our reaction is going to be? Of course were going to resort to arms… to protect ourselves."
Hadi Abdullah, an independent Syrian journalist and activist from the city of Al-Qusayr, Homs, said that many Syrian men had no other choice other than to pick up arms.
"The crimes committed by the Assad regime pushed the Syrian protestors to carry arms… many Syrian men carried arms not by choice but were forced to defend themselves. We hoped that our revolution would continue as a peaceful movement and attain freedom and democracy without a single bullet," Abdullah told Al Arabiya English.