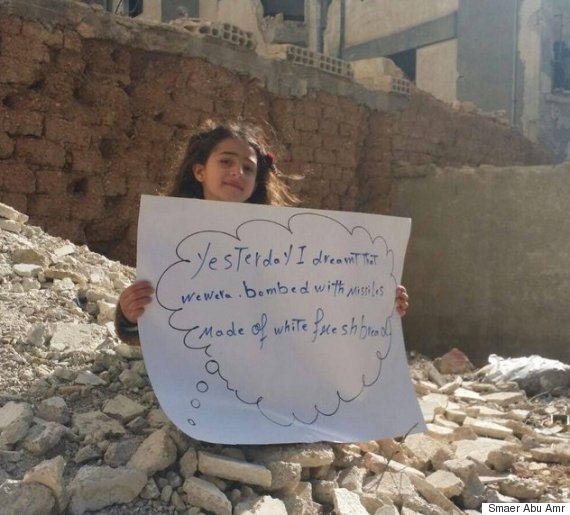 '
The Assad regime's
brutal murder campaign on Syria has destroyed my life back home. Four years ago, I had a lot of dreams that I planned to implement in my hometown. Today, I write this plea as a refugee who has lost family members to indiscriminate bombs and arbitrary detainment.
My name is Ameenah and I am 25 years old, yet somehow I feel much older. I have experienced the siege on Moadamiyeh by Assad's forces in 2013. It's an experience I can never forget. To be besieged means to see tears and depression. You see grown men and women crying because they are not able to feed their starving children. You hear the voices of the children at night crying, unable to sleep because of the piercing pain of hunger.
Moadamiyeh, a suburb of Damascus, has been part of the Syrian revolution against President Bashar al-Assad and has suffered from the regime's oppression and violence since. On December 25, 2015, 45,000 residents of the city were placed under a strict siege, surrounded by Syrian regime forces and its allies.
The December 2013 truce stated that the regime had to release all the detainees from Moadamaiyeh, uphold a ceasefire in fighting, allow all the employees and students from Moadamiyeh to go back to their work\study, remove all of the regime's forces who had surrounded the city almost since mid-2011, and open all the crossings to the city.
Though I was able to escape during this brief truce in Dec 2013, the agreements outlines under the ceasefire were never honored by the regime. The regime ended up only opening the crossings to the town for a few months; arresting more than 200 civilians who tried to get in and out of the town during that period. Meanwhile, people were allowed to bring in food, but only in specific amounts that were only enough for one or two days.
To make this nightmare even worse, of my immediate family who are still alive, they have been besieged now for the second time in the last 4 years by the Assad regime - at risk of dying from starvation and cold. And despite our phone calls and their messages of reassurance, I know that any attempts to save them are not in my control. It requires international intervention to stop Assad's belligerence. Unfortunately, we Syrians have learned the hard way not to place faith in humanity after the international community has failed over and over again to support us with even the most basic amount of dignity.'