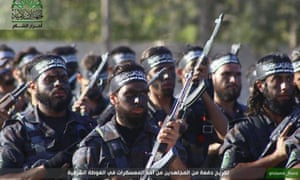 '
Labib al-Nahhas
is the "foreign affairs minister" for Ahrar al-Sham, a group that has fought in alliances with al-Qaida's Syrian franchise.
His role sends him around western capitals arguing that his group is an ultra-conservative but legitimate part of the opposition, using his own European roots to reach out to diplomats wary of the group's history and beliefs.
"From the ideological point of view, I am an Islamist of course; if not I wouldn't be in this movement. But the difference, what enables me to do my work better, is that I understand both worlds and not only from a theoretical point of view," he said in an interview about his role in the group and its new positioning.
"I had an immense affinity to Syria, and specifically to
Homs
. Homs, which is my father's city and where I grew up, is like the ultimate place for me. I have lived in the best cities of the world, but I could never settle down," he said. "I kept changing places because I never found peace of mind away from Homs."
He had not been there long before the
Arab spring swept through the region
, and he joined local street protests that were the first stirrings of revolution.
They went on to move from peaceful protests to violent rebellion, as founding members of a rebel group that later merged with Ahrar al-Sham.
"The transformation was because they did not leave us any other option; it was in our own defence in the face of the passivity of the international community," Nahhas said.
"When every demonstration becomes a question of life or death, you hold on to what allows you to continue, what is worth dying for, and in our case it was faith, and the idea of freedom and dignity which united us."
"We don't see any conflict with most mechanisms used in democracy in electing people's representatives and leaders; it is a clear principle in Islam that the nation has the right to choose its leadership," he said.
The group's progress in winning some cautious endorsement for engagement from figures like
former US ambassador to Syria Robert Ford
encapsulates the strategic dilemma the west faces as opposition to Assad fragments and radicalises. A group like Ahrar al-Sham would once have been anathema to Washington, with its commitment to "moderate" opposition groups.
But as Russia doubles down on its ally Assad, Washington is forced to choose between uneasy allies or no allies on many areas.
"Our refusal even to talk with groups like Ahrar further reduces the little influence Americans still have in Syria," Ford and
Ali el-Yassir
said. "The administration keeps trying to lead the opposition from behind, hoping for an opposition white knight to appear. Instead, because Islamist groups like Ahrar strongly influence decisions about the fate of Syria, Washington will be left behind." '