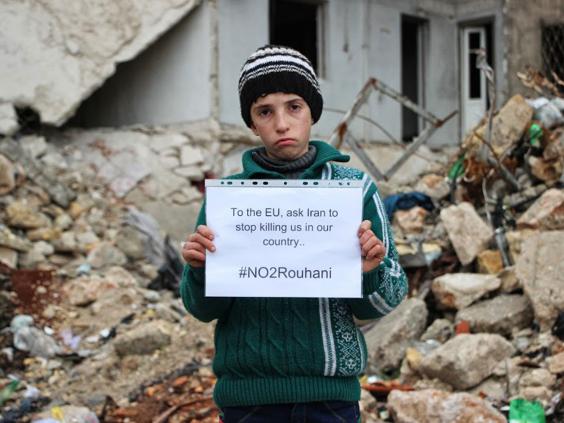 "

As the Iranian President

continues his landmark visit to Europe, Syrian children have been photographed with posters calling on leaders to oppose his alleged intervention in the country's civil war.

Pro-rebel activists in Aleppo, where civilians have been indiscriminately bombed during continuing battles between the Syrian regime, anti-government rebels and Islamists, claimed to have photographed the children in the rubble of their former homes.

They were seen holding posters accusing Hassan Rouhani of being "responsible for crimes committed by the Iranian regime in Syria" and addressed Francois Hollande, asking the French President to force his counterpart to withdraw troops."

As if there were any doubt about the Iranian invasion of Syria, or the bombing of these children's homes. Even when the Syrians being killed by Assad have their story reported at all, every effort is taken to cast doubt on their veracity.