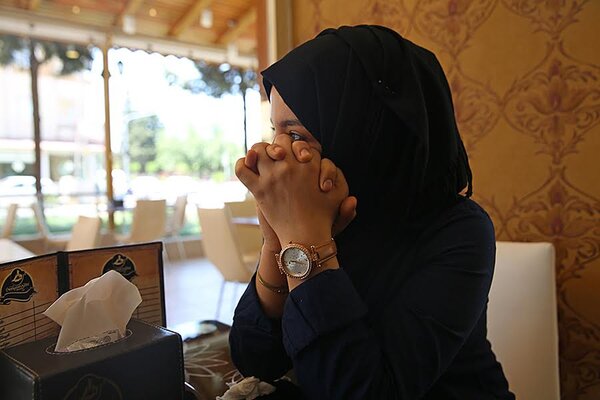 'When the Islamic State took control of her hometown of Minbaj in northern Syria she was just 17. Before then, she had organized and participated in scores of protests against Syrian President Bashar al-Assad.
After the IS takeover Ms. Alif, a devout Muslim, was horrified by the group's approach to the faith, its draconian dictates, and its rules prohibiting girls from studying. Alif and a group of friends decided to take action, which was when her nightmare of beatings, stress positions and other forms of torture began.

"We formed this small team to fight IS," recalls Alif, who works in a cramped, overheated tissue factory in southern Turkey. "We wanted to send the message that we are against them, that we don't want them in our town. That they are disfiguring Islam." Mostly they spray-painted anti-IS slogans around town. Alif is still haunted by the image of a 15-year-old boy crucified on a tree and left to rot for days.

On a crisp morning in May 2014 Alif unfolded the tricolor flag of the Syrian revolution in front of the Islamic State court as her friends documented the act and kept an eye out for IS militants. She tried to mask her identity — donning a black niqab, wearing high heels and speaking in a raspy voice. It all lasted a few seconds.'