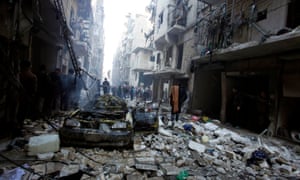 '

It was in Syria

that I began to get seriously angry about the inability of the major powers to prevent hospitals and medical staff being targeted in war zones; in Syria that I realised I must begin seriously to collate and share the knowledge I had acquired over my career to help other doctors; and after Syria that post-traumatic stress disorder finally tipped me over the edge.

By the time I first arrived in east Aleppo with Syria Relief in August 2013, many of the more senior doctors and surgeons had already left. As many as 95% of the city's physicians had found a route out. Those who remained were brave and committed, but there were very few of them and the risks were considerable. Clinics were assigned codenames to disguise how many there really were. Ambulances carried no sirens or insignia and at night drove with their headlights off. Anything that looked like help for the injured was seen as aiding the rebels, and so a legitimate target for the regime.

The hospital where I was based was close to the frontline, codenamed M1. The majority of injuries we saw were gunshot wounds. There were as many as 70 individual snipers dotted around east Aleppo at that time. They simply picked people off as they were crossing the street, going to work or going to the shops. From babies to pensioners, no one was immune.

On that first day alone in M1, 11 civilians shot by snipers were brought in. The doctors told me they had been losing a lot of patients with wounds to the major arteries; they needed significant training. I immediately agreed to give evening lectures, plus hands-on instruction for any surgeons who wanted it, where I could show my "best moves" – introducing them to new techniques, or little tricks such as how to hold their hands or instruments to save time on the table.


On that first day, all 11 patients who had been shot survived – but only after a solid 18-hour shift at the end of which I fell on to my bed absolutely exhausted. As the days went by, I noticed there was a weird consistency to the injuries we saw coming in – the patients all seemed to have been shot in the same part of the body. One day we would receive patients who had all been shot in the left groin area; on other days six or seven would arrive shot in the right groin. The same thing was happening with patients shot in the upper limbs and chest – the injuries all seemed to be on the same side, in clusters. Also, despite the snipers having telescopic sights, we rarely saw the head shots that would have resulted in an instant kill. Another surgeon told me that he'd heard that the snipers were playing a game: they were being given rewards, such as packs of cigarettes, for scoring hits on specific parts of the anatomy.

This sick competition reached its nadir towards the end of my time there when it appeared that one particularly vicious and inhumane sniper had a new target of choice: pregnant women. One such casualty arrived shot in the abdomen. The bullet had missed the baby but gone through the placenta. The woman was on the operating table only a few minutes after being shot and we delivered her baby boy via caesarian. I quickly clamped the cord and gave the infant to one of the nurses to resuscitate, but sadly she was unable to do so. We carefully sewed up the mother's uterus in the hope that she would be able to have another baby; we weren't going to let the sniper take that away from her.

The same day another sniper's victim came into the hospital. She was a first-time mother, almost at full term. She was very beautiful, wearing an immaculate white headscarf and a long, elegant coat that now had a large red stain on the front. An abdominal X-ray showed that the bullet was still inside her abdomen, but appeared also to show, horrifically, that it was lodged in her unborn baby's head. In the operating theatre, we performed a midline incision as quickly as possible and pulled the baby out. It was handed to a nurse as usual but it was pointless: the poor thing had a massive head wound and was obviously dead. The uterus was in tatters and we ended up having to give the mother a hysterectomy as well. This was probably the most upsetting and shocking act of violence I had ever witnessed against another human being.


A few days later, Ammar [a Syrian doctor who became a close friend] and I were grabbing an afternoon nap between operations when there was a knock on the door. Abu Abdullah [a Syrian surgeon] wanted to know whether I could help him with a thoracotomy. I dragged myself out of my slippery plastic bed and put on my operating shoes, which by this time were caked in dried blood – the floor was often awash with it. Once I got to the theatre I heard the patient had been shot in the back just below his shoulder blade. He was very pale under his thick beard and it was obvious that he was bleeding significantly.

Just as I was about to suture the pulmonary vein, the doors of the operating theatre burst open. I looked up and saw six fully armed men wearing black combat fatigues and headscarves storm into the room. They were Isis fighters, and the patient on the table was one of them. My heart lurched and I froze stock still. I felt a rush of adrenalin. The leader of the group came forward with his gun levelled at us.

"This is my brother!" he said aggressively, in English but with a very strong, Russian-sounding accent. Not just Isis, but Chechen Isis. "What are you doing to him?"

In English, Abu Abdullah told him that we were trying to save the man's life.

"You should have asked us before taking our brother to surgery!" was the reply. "Who are these people?" he went on, indicating Ammar and me.

It was vital that I kept a low profile – I was almost certainly the only westerner in Aleppo at the time, and it would have been a major coup if I had been kidnapped. Ammar piped up in his strongest Syrian accent to say that we were all surgeons simply trying to save the man's life. By this time I had begun to shake. It was all I could do to keep my legs from buckling under me.

"Who's this?" he said, pointing to me. Abu Abdullah whispered in my ear, "Don't say a word," before turning back to the Isis leader and saying, "This is the senior surgeon. If you disturb him he will not be able to save your brother's life."

The leader came up to the operating table and peered into the man's wound to see what we were doing. The rest of the group milled around the room menacingly – a few sat on the floor while others leaned on equipment and made themselves comfortable. It took us another hour to finish the operation. Usually, there is a lot of banter in the operating theatre but today we were silent. As we neared the end they all left, apart from the leader, who stayed until the last suture was in place. Afterwards, I found myself feeling confused and lost. I had saved the life of someone who might go on to commit terrible crimes. Did that make me complicit, somehow? Perhaps it did. And yet, I still firmly believe that it was my duty to save his life.



I promised to go back to Syria. When we reached the outskirts of Aleppo, the difference from the previous year was immediately visible. Where in 2013 there had been shops, markets and people, now there was only destruction on an industrial scale. We could see dozens of cars, trucks and lorries on the side of the road, some completely destroyed and others bearing the scars of rocket attacks. I was certain bodies must still be inside the wreckage of the vehicles. It was like something out of a Mad Max movie.

I noticed the atmosphere in the hospitals and among my colleagues was quite different: tense, charged. It felt altogether edgier and more dangerous than my previous trip. The doctors looked drained, hollow. They were under constant barrage from barrel bombs, rockets and machine guns. Simply getting around the city had become exceptionally dangerous. The chance of being killed simply moving from one hospital to another was something like one in four. One of the new doctors helpfully told me my chances of leaving Aleppo alive were 50/50.

I had a near-constant pain in the middle of my chest, which I could ignore only when I was immersed in an operation. Day after day we saw entire families brought in to the hospital, their homes destroyed by barrel bombs. Most of the children we saw were under 10. Some were dead on arrival, from the effects of the shockwave or from inhaling pulverised concrete. One particular day will stay with me for the rest of my life. Following a colossal bang, a family of seven children came in with their dead mother. The first child was just a toddler, and had lost both her feet. Her brother on the next trolley was about seven – he had a massive pelvic injury. Another boy, about the same age, had blood streaming from his face. I still have nightmares about what happened next. A little boy, about five years old, was brought in, face down on the trolley. Both his buttocks and the backs of his thighs had been completely blown off. He was still alive but completely silent as he gazed around the room. One of the nurses pulled his hair back from his face and started to comb it gently with her fingers. That was all we could do for him; we had run out of morphine. A few minutes later another child was brought in, his sister. Half of her head and brain were missing.

On our last day, we heard the sound of heavy gunfire outside the house. I peered through a crack in the window and could see about 20 armed men coming towards us, some walking and firing their weapons, others with heavy-calibre machine guns on the back of pickup trucks. I began to panic. I was cold and clammy and began shaking uncontrollably. Had Isis finally caught up with me? We hit the deck, hiding under our beds. I closed my eyes and lay there, in despair – for myself, and for this poor country that had been overwhelmed by darkness. The shooting lasted around an hour. At some point the hospital administrator told me not to worry – the fighting was just between two rival Free Syrian Army factions. It turned out later he had hidden the reality of the situation to protect me. The fighters were Isis, and it was their last chance to take me hostage.'