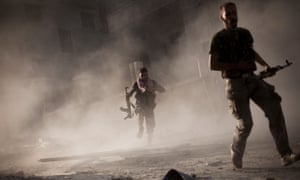 "
Cooperating with the moderate forces
fighting on the ground is essential, otherwise the airstrikes are not going to be useful at all," said Mohammad al-Hassoun, commander of a small group called Fursan al-Huria, or Knights of Freedom, north-east of Aleppo.
Bombing Isis oil infrastructure
is already hitting its financial base, Hassoun said, but its opponents need to take the whole Turkish border with the help of ground troops so they can stop the supply of another key resource for the Islamist group, foreign recruits.
"Isis has two key resources, one is financial and one is human. Finally the coalition understands that those people are making money from the oil, and have started to bomb the oil, which is useful to cut their financial revenue," he said. "If the FSA controlled the area [along the border] we could cut their human resources off too."
Commanders' hopes for new supplies range from stinger missiles to target Russian and Assad regime aircraft, which all groups want but know they will not get off western powers, to much more realistic demands for assault and sniper rifles. Several said they would also ask for tactical support in areas like mine detection.
"The British role was negative because they were just talking and doing nothing in
Syria
," said Abu Qutaiba, a former fighter who is now a media and political activist for several groups. "Of course I support the airstrikes, but it depends how they do it. Even though its too late, I think any people could be involved against Isis are welcomed."
"Is it going to be useful for the British and others to bomb? The problem is the big powers have a disagreement on who is going to fight who," said
Ahmad Shhab, also political adviser to a smaller group.
"Some say their priority is Isis, while for the others the priority is to finish the opposition and the FSA and the Syrian revolution in the end."